Franchise Council of Australia (FCA) Excellence in Franchising Awards - Supplier of the Year 2021
Spectrum Analysis Australia
Franchise Council of Australia (FCA) Excellence in Franchising Awards - Supplier of the Year 2021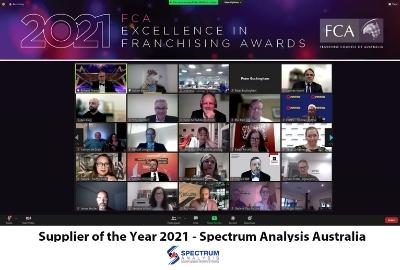 MEDIA RELEASE: Spectrum Analysis Australia wins Supplier of the Year in the Franchise Council of Australia Excellence in Franchising Awards
Spectrum Analysis Australia, a geodemographic modelling and analysis boutique mapping consultancy based in Surrey Hills, Melbourne has been announced 'Supplier of the Year 2021' at the online evening gala dinner awards of the Franchise Council of Australia
Peter Buckingham, Co-Founder and Managing Director of Spectrum Analysis Australia says, "We have been attending the Franchise Council of Australia (FCA) National Franchising Convention and Awards every year, all over Australia, since 1999. We have even been a Finalist in the awards three times. But this year, via an online ceremony, we won the 'Supplier of the Year' national award. We are beyond excited even if we don't have the trophy yet."
The Franchise Council of Australia website says, "This award recognises supplier excellence in contributing to the franchising sector and helping clients (franchise organisations) within the sector achieve their goals."
Buckingham says, "The last year has been very difficult for some franchises and for others, it could be considered a time of significant adaptation and profit. At Spectrum Analysis Australia, we have adjusted our offerings to meet the changing needs of the franchising sector, but we have also diversified our offering to the education sector and now help schools, colleges and universities use facts and data to make more effective short and long term decisions."
A Certified Franchise Executive (CFE) and a long term member of the FCA, Buckingham believes that the franchising sector has found ways to thrive in difficult circumstances and many of the lessons that apply to franchising could also be used in other industries.
"I would love to see more enterprises base their decisions on accurate information, careful analysis and insightful reporting rather than anecdotal observations and personal opinion. Throughout COVID-19, all levels of government have been stating they must use data to make their decisions. In a modern world that is so focused on moving forward, it surprises me that so many enterprises are still not using quantitative verifiable data from reputable sources for strategic planning, marketing analysis and financial decision-making. Advances in technology mean that we can provide highly specific online tools tailored for individual clients with all of the privacy methods in place."
Whilst Spectrum Analysis Australia is very excited to be recognised more formally, they would like to take this opportunity to publicly thank the FCA for persisting with an online version of the Awards in 2021, their own hard-working and dedicated team of Geographic Information Systems Analysts, Chief Data Scientist and other professionals, their extensive range of valued clients in different industries and loyal partners.
The FCA awards are a great opportunity to showcase the high achievers of the franchising industry and on behalf of Spectrum Analysis Australia, we would like to say thank you to everyone involved. It was also wonderful to see several of our clients win awards including the overall winner of Australian Established Franchisor of the Year, Rapid Tune Automotive Services" says Buckingham.
Award details
https://www.franchise.org.au/awards/supplier-of-the-year
FCA Excellence in Franchising Awards 2021 Winners – six * are Spectrum Analysis Australia clients
Australian Established Franchisor of the Year – Rapid Tune *
Australian Emerging Franchisor of the Year – Home Caring
International Franchisor of the Year – InXpress *
Multi-Unit Franchisee of the Year – Alex McRae, ANZ Mobile Lending – Drummoyne, Balmain, Burwood *
Single Unit Franchisee of the Year, two or more staff – David Sulava and Janet Mu, ANZ Mobile Lending – Flemington *
Single Unit Franchisee of the Year, less than two staff – Bev Taylor, InXpress – Brisbane *
Franchise Woman of the Year – Karen Purcell, FoodCo
Field Manager of the Year – Phil Colburn, Poolwerx *
Supplier of the Year – Spectrum Analysis
Excellence in Marketing – Muffin Break
Excellence in Franchise Innovation – CouriersPlease
Franchisee Community Responsibility and Contribution – CouriersPlease
Franchise Council of Australia Hall of Fame Inductee – Lesley Gillespie
Spectrum Analysis Australia
Co-founded by Peter Buckingham in Melbourne in 1996, Spectrum Analysis Australia Pty Ltd offers geodemographic modelling and analysis based on verifiable data and statistics for site selection, territory planning, marketing strategy, business forecasting and executive level decision-making for discerning clients across Australia and the world.
https://spectrumanalysis.com.au
Media contact
Peter Buckingham, Managing Director, Spectrum Analysis Australia
+61 411 604 921
peterb@spectrumanalysis.com.au
Spectrum Analysis Australia Pty Ltd
Suite 6, 407 Canterbury Road, Surrey Hills, Melbourne, Victoria, Australia 3127
https://spectrumanalysis.com.au
https://www.linkedin.com/in/peterbuckingham1
https://www.linkedin.com/company/spectrum-analysis-australia-pty-ltd/
https://twitter.com/spectrumanlysis
https://www.facebook.com/spectrumanalysisaustralia
https://www.youtube.com/channel/UCMer7ZAqj2cf8fL15eiCkXQ
Newsmaker Media Release – with downloadable images – click here
If you have any questions about our media releases, please contact our Managing Director Peter Buckingham for more information.